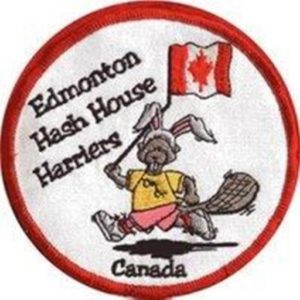 The Hash has NO RULES (but there are some traditions):
You must be 18 years or older to attend an EH3 run or event.
Sorry, because they can get underfoot, no dogs on the runs.
Run fees are $5. Fee is waived for virgins, (i.e. those new to hashing). This entitles you to one beverage, beer/cooler/soft swill, at the run. Extra beverages cost $2.
If you pre-pay for 30 runs, you get 3 runs free. You can pay by cheque at a run, or send $150 by e-transfer to Gobble Me at edmontonhhh (at) gmail (dot) com (preferred choice). It'll be an automatic deposit with no security question. Just let Hash Cash know you've paid this way.
Hares run for free on their run. Scribes get a coupon for a free run emailed from the esteemed Trash Editor once they submit a run report.
The ON-ON beer fee is $8 now $10!
To hare a run, please contact Happy Beaver (ms.happy.b (at) gmail (dot) com) or Big Rubber (jyaskowich (at) gmail (dot) com) at a run or by email with the subject line beginning with Run Info and cc French Tickler (PGay (at) mcgeerichard (dot) com). Updates may also be sent to al (dot) klassen (at) outlook (dot) com. If you would like to, or need to, sponsor a hash hold please contact the hares.
Unless otherwise posted, runs from April through September are held Mondays at 6:30 pm and runs from October through March are held Saturdays at 2:00 pm.
EH3 Run #1712, Saturday, October 7, 2 pm – first Saturday run
Hares: Free Woody, Gobble Me
Location: Oleskiw park across the street from 220 Walker Road (https://maps.app.goo.gl/ZkVifYQH7brKj1g87)
On-On: Franco's, 6627 177 St
Eclipse run, Saturday October 14 at 10 am: go to the Full Moon HHH page for details: Full Moon / Eclipse Hash
EH3 Run #1713, Saturday, October 14, 2 pm – Hoser Run
Hares: Scratch and Sniff, Nasty Ditch
EH3 Run #1714, October 21
Hares: Bag Lady, Pump it Up
EH3 Run #1715, October 28 – Halloween Run
Hares: My Skorotum, Long On In
EH3 Run #1716, November 4 – The Not Dead Yet Scorpio's 
Hares: Dr. Diddle & No Reservations (with help from other Scorpio's)
EH3 Run #1717, November 11 – Memorial Run
Hares: Dame Edna, Cock à Trois, Big Rubber
EH3 Run #1718, November 18
Hares: Smooth Operator, Breaking Wind
EH3 Run #1719, November 25
Hare: need hare
EH3 Run #1720, December 2
Hares: Spring Loaded, Just the Tip
EH3 Run #1721, December 9
Hares: Won't Swallow, Phone Sax, Bag Lady
EH3 Run #1722, December 16
Hares: Fallen Angel, Quick Draw, Crack Filler
EH3 Run #1723, December 23
Hares: Chapped Lips, Vajazzled, Hidden Assets