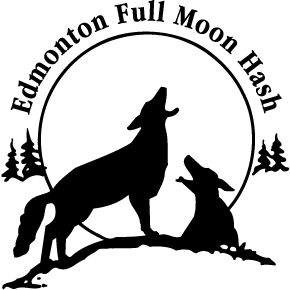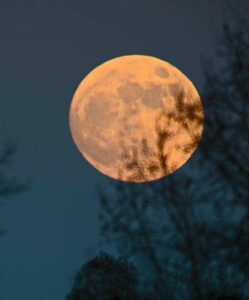 The Edmonton FULL MOON HHH runs year round on the Friday closest to the full moon.
EXCEPT: If there is an eclipse, the run takes place during the eclipse.

The next Solar Eclipse run is in October .. see below
Saturday October 14, 2023, 10 am: Eclipse Run #18
Hares: Dr Diddle & Mammary Lapse
Location: North East River Valley Park, 903 – 153 Ave NE
(On 9th Street NE, ignore the first parking lot and continue on until 9th street curves into the park. There will be an Eclipse sign at the right picnic spot.)
Notes: Maximum Solar Eclipse happens at 10:28am
Weather permitting, there'll be a BBQ / Firepit On-On in the park.
Hares providing smokies, buns & condiments. BYOB
If you ordered your Eclipse #18 shirt, it should be available on the day.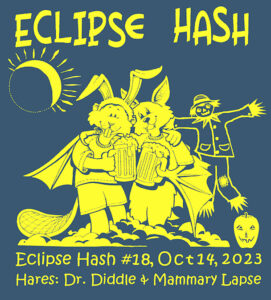 Friday Oct 27, 2023, 7pm: Full Moon Run 337
Hares: Rumple & Rearendee
Location: TBD
Notes: may be combined with DBF
Friday Nov 24, 2023, 7pm: Full Moon Run 338
Hare: TBD
Location: TBD
Notes: tbd
Friday Dec 29, 2023, 7pm: Full Moon Run 339
Hare: TBD
Location: TBD
Notes: tbd