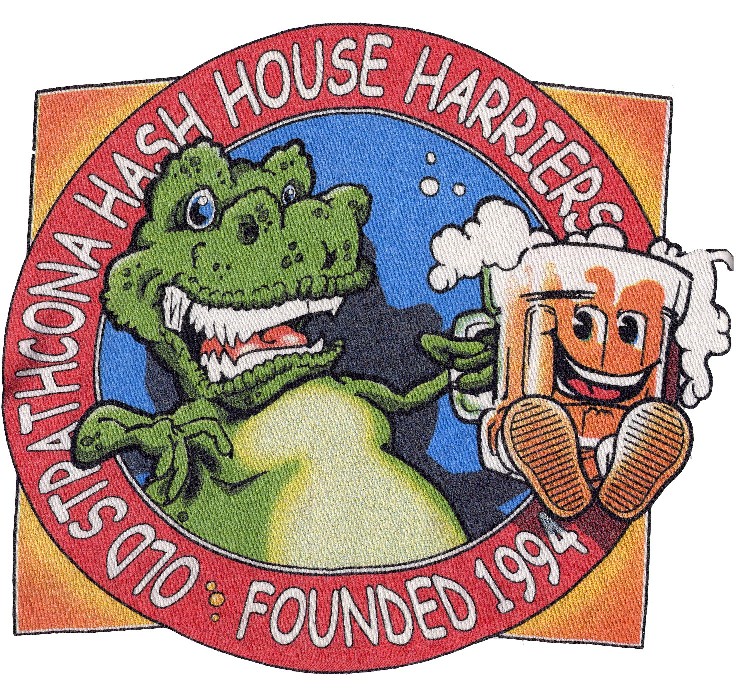 The Old Strathcona Hash House Harriers (OSH3) is a "no frills" hash, with no run fee and no Religious Advisor, just a run and good company!
We meet at 2 pm year-round on most Sundays, except on long weekends unless a hare insists on setting a run. Runs are usually simpler than in the "big hash": we usually just use checks and leave out the checkbacks and false trails unless the hare f*cks up. We also don't usually have a hashhold, but we don't complain if the hare offers one!
Because we're a small hash we often meet up for potlucks at the hare's home or at some small pub. Like the other hashes we still take advantage of Edmonton's extensive network of trails and river and creek valleys.
For all these reasons the OSH3 is a friendly, casual Hash. It's also a good place to learn how to set trails because the trails are easier to set, there's usually no pub to book, and we're grateful to get the hares.
If you wish to hare a run, please contact Dr. Diddle at d.e.checkel@gmail.com. Updates may also be sent to IdiotSavant@eh3.org.
Upcoming Runs
Run #952 Sunday, October 22 at 2 PM
Hare: Grab and Go … runners run, walkers walk  +  One drinks, They ALL drink.
Run at: Thirsty Camel Pubhouse & Kitchen, 6825 – 83 Street
On-On:Thirsty Camel, 6825 – 83 Street
Notes:
Run #953 Sunday, October 29 at 2 PM
Hare: Church Lady
Run at: 975 Youville Drive West, T6L 6T2
On-On: same
Notes: BYOB & Pot Luck. (Youville Drive West can be accessed from 31 Ave just East of 66 Street in Mill Woods)
Run #954 Sunday November 5. Time TBD. Tentative Hares: Mr Lube, Wrist Action and Guy Fawkes
Run #955 Sunday November 12 at 2 PM. Hares Horses Arse and Bum Deal
Run #956 Sunday November 19 at 2 PM. Hare: Locked Box
Run #957 Sunday November 26 at 2 PM. ….