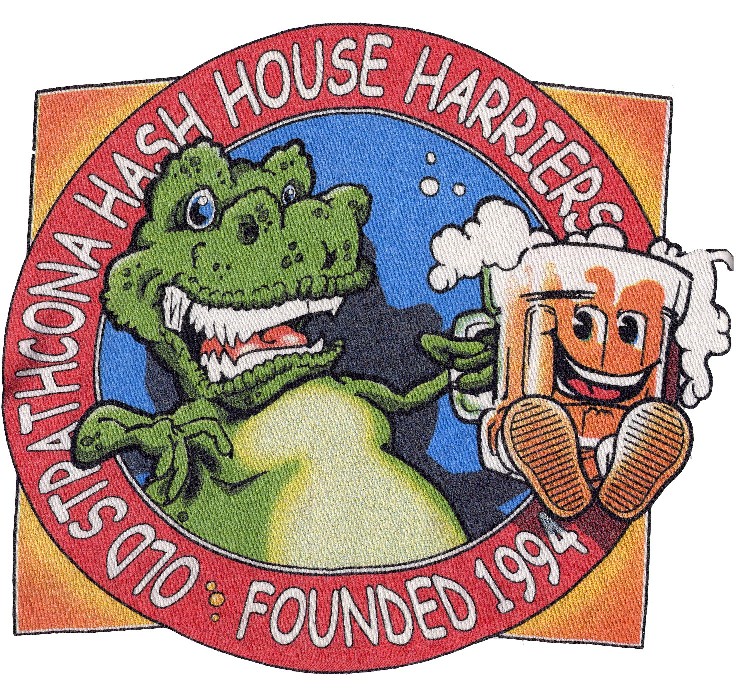 The Old Strathcona Hash House Harriers (OSH3) is a "no frills" hash, with no run fee and no Religious Advisor, just a run and good company!
We meet at 2 pm year-round on most Sundays, except on long weekends unless a hare insists on setting a run. Runs are usually simpler than in the "big hash": we usually just use checks and leave out the checkbacks and false trails unless the hare f*cks up. We also don't usually have a hashhold, but we don't complain if the hare offers one!
Because we're a small hash we often meet up for potlucks at the hare's home or at some small pub. Like the other hashes we still take advantage of Edmonton's extensive network of trails and river and creek valleys.
For all these reasons the OSH3 is a friendly, casual Hash. It's also a good place to learn how to set trails because the trails are easier to set, there's usually no pub to book, and we're grateful to get the hares.
If you wish to hare a run, please contact Dr. Diddle at d.e.checkel@gmail.com. Updates may also be sent to al.klassen@outlook.com.
Upcoming Runs
---
No run July 21 due to AGPU Weekend
Run 1011, July 28—The – – – – Run
Hares: Maybe Dick Tracy ?
Location: TBD
On-On: TBD
Notes: !
No run August 4 due to long weekend
Run 1012, The – – – – Run
Hares: Maybe Pecker Checker ?
Location: TBD
On-On: TBD
Notes: !
Hare needed
Run 1013, August 18, The Spermy & Webby Annual Backyard BBQ Run
Hares: Sperm Bank & Webster's Dick
Circle UP & On-On Location: The Dick Bank, 11211 – 36 St NW
Details: Hares will provide burgers, salads and snacks. BYOB & a lawn chair.
Run 1000 AGAIN!, August 25, 2 pm The OSH3 1000th Run Celebration
Hare: Bouncer
Location: George Luck School, 300 Bulyea Road
On-On: The Passion Pit Palace, 437 Butchart Drive
Notes: BYOB. BBQ potential, details to follow.
Special feature: Art Show by Sandy Cross and Peter Moore.
Also, Scratch 'n Sniff will be there with Serendipity Body Products
Haberdashery: Red shirts with OSH3 logo will be ordered through Muddy. Long sleeve. $30. Muddy will be at runs occasionally to take orders.
No run September 1 due to Labour Day long weekend.
Run xxx, September 8