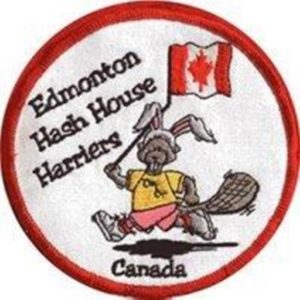 The Hash has NO RULES (but there are some traditions):
You must be 18 years or older to attend an EH3 run or event.
Sorry, because they can get underfoot, no dogs on the runs.
Run fees are $5 (waived for virgins, i.e. those new to hashing). This entitles you to one beverage, beer/cooler/soft swill, at the run. Extra beverages cost $2.
If you pre-pay for 30 runs, you get 3 runs free.
Hares run for free on their run. Scribes get a coupon for a free run from the Trash Editor when they submit a run report.
The ON-ON beer fee is $8.
To hare a run, please contact Nookey or Mr.PeeeeeNut at a run or by email to mrpeeeeenut (at) gmail (dot) com with the subject line beginning with Run Info. Updates may also be sent to al.klassen@outlook.com. If you would like to, or need to, sponsor a hash hold please contact the hares.
Unless otherwise posted, summer runs are held Mondays at 6:30 pm from April through September and winter runs are held Saturdays at 2:00 pm from October through March
Run #1583 August 19, 2019 
Hares: Sticky Fingers and Fallen Angel
Location: McNally School, 8440 105 Ave (https://maps.app.goo.gl/1E2cQdo3S3BRH6sX6)
On-On: Fargos Capilano, 5804 Terrace Road
Notes: $11.95 pasta night (pick your noodles & sauce), $5 glasses of wine, $7.50 wings, $13.95 nachos
Run #1584 August 26, 2019
Hares: Happy Beaver and Bag Snatcher
Location: Capilano Park parking lot. 50 St. North of 109 A Ave
On-On: Fargos Capilano, 5804 Terrace Road.
Run #1585 September 2, 2019
Hares: Ass Teaser
Run #1586 September 9, 2019 – Naughty School Girl Run
Hares: Quick Draw McBraw, Dame Edna, BlowHoleE
Location: TBA
On On: TBA
Run #1587 September 16, 2019
Hare Needed
Run #1588 September 23, 2019
Hares: ShitPicker, Strap On and Gear Shaft
Last Monday Hash
Run #1589 Monday, September 30, 2019 – The Hoser Run
Hares: Scratch n Sniff and Nasty Ditch
Hash new time: 2:00 Saturday
Saturday at 2pm
Run #1590 – Hash till you drop baby!
October 5, 2019
Hare: VST, Dr. Diddle, Big Rubber, Mr. PeeeeeNut
Run #1591 Saturday, October 12, 2019
Hare Needed
Run #1592 Saturday, October 19, 2019
Hare Needed
Run #1593 Saturday, October 26, 2019
Hare Needed
Run #1594 Saturday, November 02, 2019
Hare: Dr. Diddle
Run #1595 Saturday, November 09, 2019 
  Hare: Nookey
Run #1596 Saturday, November 16, 2019
Hare Needed
Run #1597 Saturday, November 23, 2019
Hare Needed
Run #1598 Saturday, November 30, 2019
Hare Needed
AGPU, Saturday, July 18, 2020