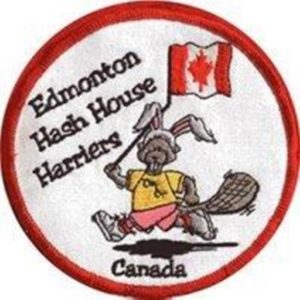 The Hash has NO RULES (but there are some traditions):
You must be 18 years or older to attend an EH3 run or event.
Sorry, because they can get underfoot, no dogs on the runs.
Run fees are $5 (waived for virgins, i.e. those new to hashing). This entitles you to one beverage, beer/cooler/soft swill, at the run. Extra beverages cost $2.
If you pre-pay for 30 runs, you get 3 runs free.
Hares run for free on their run. Scribes get a coupon for a free run from the Trash Editor when they submit a run report.
The ON-ON beer fee is $8.
To hare a run, please contact Nookey or Mr.PeeeeeNut at a run or by email to mrpeeeeenut (at) gmail (dot) com with the subject line beginning with Run Info. Updates may also be sent to al.klassen@outlook.com. If you would like to, or need to, sponsor a hash hold please contact the hares.
Unless otherwise posted, runs from April through September are held Mondays at 6:30 pm and runs from October through March are held Saturdays at 2 pm
*** Due to COVID-19 pandemic and recommendations from Alberta Health, the Edmonton HHH mismanagement has decided to suspend EH3 live hash runs until further notice.  A weekly Zoom event is planned to hold a virtual run.  For further information about the virtual runs or someone to whine to, please contact mrpeeeeenut (at) gmail (dot) com  ***
June 20, 2020: EH3 Golf Tournament (http://www.eh3.org/event/eh3-golf-tournament/)
2020 AGPU cancelled
Purple Dress Run – postponed to Spring, 2021!
The Red Dress Run Turns Purple… next year!