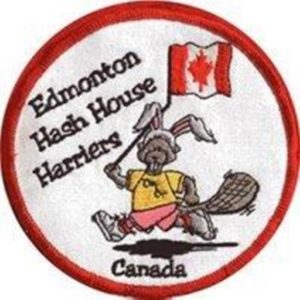 The Hash has NO RULES (but there are some traditions):
You must be 18 years or older to attend an EH3 run or event.
Sorry, because they can get underfoot, no dogs on the runs.
Run fees are $5 (once we get back to normal). Fee is waived for virgins, i.e. those new to hashing). This entitles you to one beverage, beer/cooler/soft swill, at the run. Extra beverages cost $2.
If you pre-pay for 30 runs, you get 3 runs free.
Hares run for free on their run. Scribes get a coupon for a free run from the Trash Editor when they submit a run report.
The ON-ON beer fee is $8, again once things get back to normal.
To hare a run, please contact Nookey or Mr.PeeeeeNut at a run or by email to mrpeeeeenut (at) gmail (dot) com with the subject line beginning with Run Info. Updates may also be sent to al.klassen@outlook.com. If you would like to, or need to, sponsor a hash hold please contact the hares.
Unless otherwise posted, runs from April through September are held Mondays at 6:30 pm and runs from October through March are held Saturdays at 2 pm
*** Due to COVID-19 pandemic and recommendations from Alberta Health, the Edmonton HHH will be having simplified runs/walks, only if a hare or hares is willing to set them. Physical distancing is required, and there will be no circle before and no swill, down-downs, or announcements after. If there is no hare, a weekly Zoom event will be held instead. For further information about the virtual runs or someone to whine to, please contact mrpeeeeenut (at) gmail (dot) com ***
Monday, Sept 14 at 6:30 pm — Virtual Hash Run #26 – Live Hare
Hare: Limp Noodle
Location: Muttart parking lot, 9626 96A St (https://goo.gl/maps/MmJDFYwTQ97d9WyW9)
On-On: Go Home
Monday, Sept 21 at 6:30 pm — Virtual Hash Run #27 – Naughty School Girl Run
Hare: Quick Draw McBraw, Dame Edna, and BlowHoleE
Location: Granite Curling Club, 8620 107 St NW, https://goo.gl/maps/o6WFG8B2LqfJpP62A
On-On: Go Home
Monday, Sept 28 at 6:30 pm — Virtual Hash Run #28
Hare: Cock A Trois and No Reservations
Location: TBA
On-On: Go Home
RUNS SWITCH TO SATURDAYS IN OCTOBER
Saturday, Oct 03 at 2:00 pm — Virtual Hash Run #29 – Hoser Run
Hare: Scratch and Sniff & Nasty Ditch
Location: TBA
On-On: Go Home
Saturday, Oct 10 at 2:00 pm — Virtual Hash Run #30
Hare: TBA
Location: TBA
On-On: Go Home
Saturday, Oct 17 at 2:00 pm — Virtual Hash Run #31
Hare: TBA
Location: TBA
On-On: Go Home
Saturday, Oct 24 at 2:00 pm — Virtual Hash Run #32
Hare: TBA
Location: TBA
On-On: Go Home
Saturday, Oct 31 at 2:00 pm — Virtual Hash Run #33
Hare: Dr Diddle et al
Location: TBD
On-On: Go Home