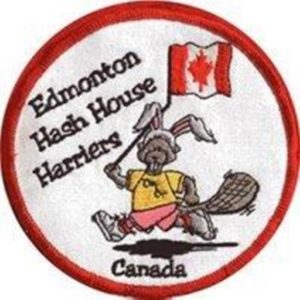 The Hash has NO RULES (but there are some traditions):
You must be 18 years or older to attend an EH3 run or event.
Sorry, because they can get underfoot, no dogs on the runs.
Run fees are $5. Fee is waived for virgins, (i.e. those new to hashing). This entitles you to one beverage, beer/cooler/soft swill, at the run. Extra beverages cost $2.
If you pre-pay for 30 runs, you get 3 runs free. You can pay by cheque at a run, or send $150 by e-transfer to Gobble Me at edmontonhhh (at) gmail (dot) com (preferred choice). It'll be an automatic deposit with no security question. Just let Hash Cash know you've paid this way.
Hares run for free on their run. Scribes get a coupon for a free run emailed from the esteemed Trash Editor once they submit a run report.
The ON-ON beer fee is $8 now $10!
To hare a run, please contact French Tickler or BlowHoleE or Horse's Arse at a run or by email to either PGay (at) mcgeerichard (dot) com or stefancik (at) hotmail (dot) com with the subject line beginning with Run Info. Updates may also be sent to al (dot) klassen (at) outlook (dot) com. If you would like to, or need to, sponsor a hash hold please contact the hares.
Unless otherwise posted, runs from April through September are held Mondays at 6:30 pm and runs from October through March are held Saturdays at 2:00 pm.
EH3 Run #1684 – Onesie Run (Last Saturday Run)
Saturday, April 1 at 2 pm
Hares: My Favourite Sister, Crazy Undercover, French Tickler
Scribe: Tale on Trail
Location: Capilano Park
On-On: Fargo's 5804 Terrace Road
EH3 Run #1685 – First Monday Run
Monday, April 3 at 6:30 pm
Hares: Gobble Me, Free Woody
Location: Westridge Wolf Willow community hall, 505 Wolf Willow Road
On-On: Franco's Pizza, 6627 – 177 Street

EH3 Run #1686 – Easter Run
Monday, April 10 at 6:30 pm
Hares: Inky Dinky, Swinging Ball Buster

EH3 Run #1687 – The Bimbo Run
Monday, April 17 at 6:30 pm
Hares: Chapped Lips and fellow sexy bimbos

EH3 Run #1688 – St. George's Day Run
Monday, April 24
Hares: Mad Cow and the rest of the gang
EH3 Run #1689 – Coronation/Kings & Queens Run
Monday, May 1
Hares: Dr. Diddle, Fallen Angel
Note: celebrate our new king! (In the short line of Canadian monarchs and the much longer line of English monarchs, we can celebrate having the king with the greatest ear-span!)
EH3 Run #1690 – The "Ya Ain't Much If You Ain't Dutch!" Run
Monday, May 8
Hares: Rumple Dickskin, Big Bang, Bouncer, Boobs Galore et al.
EH3 Run #1691, Monday, May 15
Hares: need hares

EH3 Run #1692 – The Tu-Tu Unicorn Run
Monday, May 22
Hares: Free to Take Home & Dark Side of the Moon
EH3 Run #1693 – The Dick Run
Monday, May 29
Hares: Hat Trick, Pump it Up, Edifice Complex, Butt Sniffer

EH3 Run #1694 – D-Day Run
Monday, June 5
Hares: Big Rubber
Annual General Piss-Up (AGPU)
Saturday, July 15