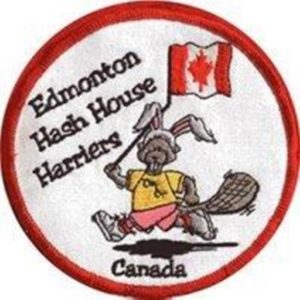 The Hash has NO RULES (but there are some traditions):
You must be 18 years or older to attend an EH3 run or event.
Sorry, because they can get underfoot, no dogs on the runs.
Run fees are $5 (waived for virgins, i.e. those new to hashing). This entitles you to one beverage, beer/cooler/soft swill, at the run. Extra beverages cost $2.
If you pre-pay for 30 runs, you get 3 runs free.
Hares run for free on their run. Scribes get a coupon for a free run from the Trash Editor when they submit a run report.
The ON-ON beer fee is $8.
To hare a run, please contact Sound of Mucus at a run or by email to craigluk (at) shaw (dot) ca with the subject line beginning with Run Info. Updates may also be sent to al.klassen@outlook.com. If you would like to, or need to, sponsor a hash hold please contact the hares.
Unless otherwise posted, Monday runs start at 6:30 pm and Saturday runs start at 2:00 pm.
The next running of the Edmonton Hash House Harriers will be…
Note: Now Saturdays at

2:00PM 
Run #1552, Saturday, January 19, 2019 – Dirty Foreskin
Hares: Dumb N Dirty and Rumple Foreskin
Run Start: parking for the run next week will be at Whitemud park located at 13204 Fox Drive
On On: Drifters
Run #1553, Saturday, January 26, 2019 – Robbie Burns Run
Hares: Dick Tracy, etc.
Run #1554, Saturday, February 2, 2019 –
Hares: Eager Peevert/Wise Cracker
Run #1555, Saturday, February 9, 2019 – Bonspiel 
Hares: Problem Child, Big Rubber, and Mad Cow
Run #1556, Saturday, February 16, 2019 –
Hares: NEED VOLUNTEER
Run #1557, Saturday, February 23, 2019 –
Hares: Sticky Balls
Run start: TBA
On On: TBA
Run #1558, Saturday, March 2, 2019 – 25 Years of Hashing & 50 Years of $Shit disturbing
Hares: Mr. PeeeeeNut & Special Guest Hares
Run #1559, Saturday, March 9, 2019 –
Hares: Chapped Lips, Crack Filler and Finger Food
Run #1560, Saturday, March 16, 2019 – St. Paddies
Hares: Butt Sniffer, Piss N Boots, Nasty Habit
Run #1561, Saturday, March 23, 2019 – Boaring Run
Hares: Problem Child plus Guests
Run #1562, Saturday, March 30, 2019 – Last Saturday Run (2pm)
Hares: NEED VOLUNTEER
Run #1563, Monday, April 1, 2019 – First Monday Run (6:30pm)
Hares: Gobble Me and Free Woody
Run #1564, Monday, April 8, 2019 –
Hares: NEED VOLUNTEER
Run #1565, Monday, April 15, 2019 –
Hares: NEED VOLUNTEER
Run #1566, Monday, April 22, 2019 –
Hares: Mad Cow, All Fucked up
Run #1567, Monday, April 29, 2019 –
Hares: NEED VOLUNTEER
Run #1568, Monday, May 6, 2019 – Cinco De Mayo
Hares: Bump N Grind and some other gringos
Run #1569, Monday, May 13, 2019 – Dutch Run
Hares: Bouncer and other Dutchies
Run #1570, Monday, May 20, 2019 –
Hares: NEED VOLUNTEER
Run #1571, Monday, May 27, 2019 – Xena Run
Hares: BlowHoleE, Frenchie and Smurf
Run #1572, Monday, June 3 or 10, 2019 – D Day Run
Run #1573, Monday, June 3 or 10, 2019 – D Day Run
Hares: Big Rubber and Lap Quest
Final date tbd
Run #1574, Monday, June 17, 2019 –
Hares: NEED VOLUNTEER
Run #1575, Monday, June 24, 2019 – TBA Reserved
Hares: Reserved
Saturday, July 20, 2019 – AGPU
Location: TBD