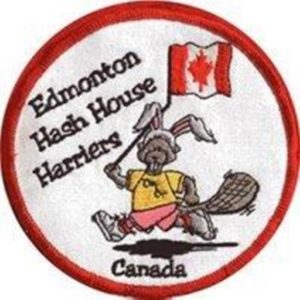 The Hash has NO RULES (but there are some traditions):
You must be 18 years or older to attend an EH3 run or event.
Sorry, because they can get underfoot, no dogs on the runs.
Run fees are $5 (waived for virgins, i.e. those new to hashing). This entitles you to one beverage, beer/cooler/soft swill, at the run. Extra beverages cost $2.
If you pre-pay for 30 runs, you get 3 runs free.
Hares run for free on their run. Scribes get a coupon for a free run from the Trash Editor when they submit a run report.
The ON-ON beer fee is $8.
To hare a run, please contact Sound of Mucus at a run or by email to craigluk (at) shaw (dot) ca with the subject line beginning with Run Info. Updates may also be sent to al.klassen@outlook.com. If you would like to, or need to, sponsor a hash hold please contact the hares.
Unless otherwise posted, Monday runs start at 6:30 pm and Saturday runs start at 2:00 pm.
The next running of the Edmonton Hash House Harriers will be…
Run #1570, Monday, May 20, 2019 – 6:30 PM
Hares: Tie Me Up, Eunuch Psycho and Pump It Up
Location: SCM Building occupied by Jayman Enterprises, 5083 Windermere Blvd; park in the lot on the east side of the building (https://goo.gl/maps/Vzod3HqnAMugRnkz6)
On-On: note: change of on-on: Franco's, 6627 177 St (https://goo.gl/maps/Sbb8yw8Yz9v2a51Y9)
Scribe: TBA
Run #1571, Monday, May 27, 2019 – Xena Run
Hares: BlowHoleE, Frenchie and Smurf
Location & On-On: Granite Curling Club, 8620 107 St
Notes: all drinks $4 each – buy your own & don't forget to tip!
Food from the Crooked Fork Food Truck
Dress like a warrior!! Get your pie plates and muffin cups decorated! Aarrgghh!
Run #1572, Monday, June 3, 2019 – D Day Run
Hares: Big Rubber and Lap Quest
Run #1573, Monday, June 10, 2019 – Dipsey  Doodle Day Run
Hares: Limp Noodle
Run #1574, Monday, June 17, 2019 – Get Shiggy With It!
Hares: Idiot Savant
Run #1575, Monday, June 24, 2019 – A Mucus Porta Party
Hare Raiser Grad Party
Hares: Sound of Mucus and Porta Party
Location: River lot 56 St. Albert
On On: Endeavour Brewing Company, 215 Carnegie Dr #4A, St. Albert
Craft beer: IPA, Ale, Porter, etc.
Run #1576 July 1, 2019
Hare: Volunteer Needed
Run #1577 July 8, 2019
Hare: Volunteer Needed
Run #1578 July 15, 2019
Hare: Volunteer Needed
Saturday, July 20, 2019 – AGPU
Location: Keephills Community Hall, about one hour west of Edmonton
Run #1579 July 22, 2019
Hare: Volunteer Needed
Run #1580 July 29, 2019
Hare: Volunteer Needed
Run #1581 August 5, 2019
Hare: Volunteer Needed
Run #1582 August 12, 2019
Hare: Volunteer Needed
Run #1583 August 19, 2019
Hare: Volunteer Needed
Run #1584 August 26, 2019
Hare: Volunteer Needed
Run #1585 September 2, 2019
Hare: Volunteer Needed
Run #1586 September 9, 2019
Hare: Volunteer Needed
Run #1587 September 16, 2019
Hare: Volunteer Needed
Run #1588 September 23, 2019
Hare: Volunteer Needed
Last Monday Hash
Run #1589 September 30, 2019
Volunteer Needed
Hash new time: 2:00 Saturday
Saturday at 2pm
Run #1590 – Hash till you drop baby!
October 5, 2019
Hare: VST