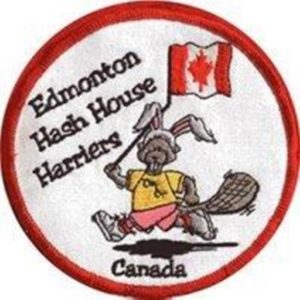 The Hash has NO RULES (but there are some traditions):
You must be 18 years or older to attend an EH3 run or event.
Sorry, because they can get underfoot, no dogs on the runs.
Run fees are $5. Fee is waived for virgins, (i.e. those new to hashing). This entitles you to one beverage, beer/cooler/soft swill, at the run. Extra beverages cost $2.
If you pre-pay for 30 runs, you get 3 runs free. You can pay by cheque at a run, or send $150 by e-transfer to Gobble Me at edmontonhhh (at) gmail (dot) com (preferred choice). It'll be an automatic deposit with no security question. Just let Hash Cash know you've paid this way. 
Hares run for free on their run. Scribes get a coupon for a free run emailed from the esteemed Trash Editor once they submit a run report.
The ON-ON beer fee is $8.
To hare a run, please contact Nookey or French Tickler at a run or by email to either swgilroy (at) shaw (dot) ca or PGay (at) mcgeerichard (dot) com with the subject line beginning with Run Info. Updates may also be sent to al.klassen@outlook.com. If you would like to, or need to, sponsor a hash hold please contact the hares.
Unless otherwise posted, runs from April through September are held Mondays at 6:30 pm and runs from October through March are held Saturdays at 2:00 pm.
Update March 2
Outdoor social activities are no longer restricted since stage 2 started on March 1.
Runs with full circles will start on March 12. By full circle we mean that it is a numbered run with hash cash and swill. Hashholds and on-ons may be organized but not mandatory at hares' discretion.
The following restrictions will still be in place, subject to further guidance:
No vax, no run. Minimum 2 doses please.
Masks required to sign in. Please be respectful of our hash cash.
If you have cold or flu-like symptoms, please don't cum.
If you just got back from a cruise or international flight (or any flight?), please don't cum to the run for at least a week, or get a rapid test if you can't wait.
Have hand sanitizer and/or wipes at the hash hold and circle, or hashers can bring their own.
No rummaging / rooting through the beer and snacks; you touch it, you take it.
Social distancing not mandatory but still encouraged.
EH3 Run #1661 – 
Monday, May 30
Hares: Limp Noodle, Bag Snatcher, Fancy Licker
Location: McNally School, 8440 105 St
On-On: Fargo's Capilano, 5804 Terrace Rd
Note: live hare run
EH3 Run #1662 – D-Day Run
Monday, June 6
Hare: General Big Rubber
EH3 Run #1663 – 
Monday, June 13
Hare: need hares
EH3 Run #1662 – Xena Warrior Princess Run
Monday, June 20
Hares: French Tickler, BlowHoleE, Smurf-o-phile
EH3 Run #1663 – The Lansdowne Loonies Run
Monday, June 27
Hares: Sir Nookey, Mud Vessel, Inky Dinky, Swinging Ball Buster, Krapper John, Squeeze Box, Just Danna
Scribe: Mud Vessel
Location: grassy knoll, corner of Lansdowne Dr & 52 Ave
On-On: Drifter's Pub, 3376 Parsons Rd (SW corner of Parsons Rd & 34 Ave)
AGPU on the third weekend of July (July 16, 17)