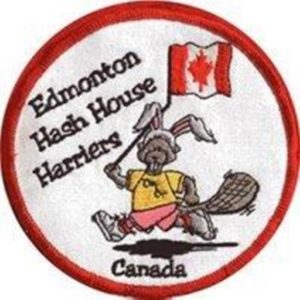 The Hash has NO RULES (but there are some traditions):
You must be 18 years or older to attend an EH3 run or event.
Sorry, because they can get underfoot, no dogs on the runs.
Run fees are $5 (waived for virgins, i.e. those new to hashing). This entitles you to one beverage, beer/cooler/soft swill, at the run. Extra beverages cost $2.
If you pre-pay for 30 runs, you get 3 runs free.
Hares run for free on their run. Scribes get a coupon for a free run from the Trash Editor when they submit a run report.
The ON-ON beer fee is $8.
To hare a run, please contact Nookey or Mr.PeeeeeNut at a run or by email to mrpeeeeenut (at) gmail (dot) com with the subject line beginning with Run Info. Updates may also be sent to al.klassen@outlook.com. If you would like to, or need to, sponsor a hash hold please contact the hares.
Unless otherwise posted, runs from April through September are held Mondays at 6:30 pm and runs from October through March are held Saturdays at 2 pm
Run #1611 Saturday, February 29, 2020 — Leap Over The Turd Run
Hares: Hat Trick, Bum Deal, Mr. PeeeeeNut
Start: Upper Parking Lot, Millcreek Pool, 9555 84 Ave NW, https://goo.gl/maps/sLsrktoQdLS4WKA16
On-On: Brick & Whiskey Pub, 8937 82 Ave NW, https://goo.gl/maps/EhKq5Jq5gx4JbA4K8

Run #1612 Saturday, March 7, 2020 — Rubber Bag run
Hares: Bag Lady IV, Rubbermade
Start: Fort Edmonton Park, 7000 143 St NW, https://goo.gl/maps/FLrLxWKjuju7zpSf6
On-On: The Bend Lounge, 14743 40 Ave NW, https://goo.gl/maps/cLyGc26pCTAirJY47

Run #1613 Saturday, March 14, 2020 — Year of the Rat Run
Hares: Problem Child and his Three Blind Mice

Run #1614 Saturday, March 21, 2020 — St Paddy's Day Run
Hares: Nasty Habit and Butt Sniffer

Run #1615 Saturday, March 28, 2020
Hare Needed
Run #1616 Saturday, April 4, 2020 (last Saturday Run)
Hares: Boobs Galore and Dr. Diddle
Run #1617 Monday, April 6, 2020 – 6:30pm — First Monday Run of 2020
Hare Needed
Run #1618 Monday, April 13, 2020
Hare Needed
Run #1619 Monday, April 20, 2020 – First Post-Brexit St George's Day Run
Hares: Mad Cow and Dame Edna (and a possible cast of thousands)
Run #1620 Monday, April 27, 2020
Hare Needed
Run #1621 Monday, May 4, 2020
Hare Needed
Run #1622 Monday, May 11, 2020
Hares??: Chapped Lips, Phone Sax, Crack Filler and Finger Food
Run #1623 Monday, May 18, 2020
Hare Needed
Purple Dress Run, Saturday, May 23, 2020
The Red Dress Run Turns Purple!
Run #1624 Monday, May 25, 2020 – Xena Run
Hares: BlowholeE, French Tickler and maybe Smurpf (if he agrees to call the bar a few days before the run)
Run #1624 Monday, June 1, 2020 – The Bald Run
Hares: Beef and the rest of his bald f-kers
Run #1624 Monday, June 8, 2020 – D Day Run
Hares: Big Rubber and Lapquest

AGPU, Saturday, July 18, 2020