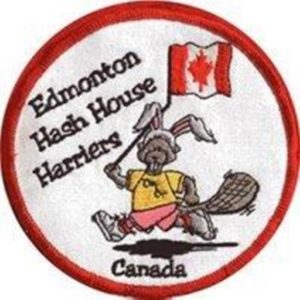 The Hash has NO RULES (but there are some traditions):
You must be 18 years or older to attend an EH3 run or event.
Sorry, because they can get underfoot, no dogs on the runs.
Run fees are $5. Fee is waived for virgins, (i.e. those new to hashing). This entitles you to one beverage, beer/cooler/soft swill, at the run. Extra beverages cost $2.
If you pre-pay for 30 runs, you get 3 runs free. You can pay by cheque at a run, or send $150 by e-transfer to Gobble Me at edmontonhhh (at) gmail (dot) com (preferred choice). It'll be an automatic deposit with no security question. Just let Hash Cash know you've paid this way. 
Hares run for free on their run. Scribes get a coupon for a free run emailed from the esteemed Trash Editor once they submit a run report.
The ON-ON beer fee is $8.
To hare a run, please contact Nookey or French Tickler at a run or by email to either swgilroy (at) shaw (dot) ca or PGay (at) mcgeerichard (dot) com with the subject line beginning with Run Info. Updates may also be sent to al.klassen@outlook.com. If you would like to, or need to, sponsor a hash hold please contact the hares.
Park Rangers now seem to be ok with white (non-coloured) flour or sidewalk chalk.
Unless otherwise posted, runs from April through September are held Mondays at 6:30 pm and runs from October through March are held Saturdays at 2:00 pm.
On October 5, outdoor activities have been restricted to 20 people, consequently mismanagement decided to suspend the circles and return to the virtual run format we used before July 1. There will be no circles, no fees will be collected, swill will not be provided, and runs will not count. Run at your own pace, or with a group of 20 or less, and send photos to the Edmonton Hash House Harriers Facebook group so we can all see how things are going.
Hares will be encouraged to set the run before 1 pm Saturday and to post a picture on Facebook if the start is a little obscure. Hash-holds are ok as long as the hares are willing put it out and we keep the group to fewer than 20. It's their call. As for any on-on, private arrangements may be made since we are able to meet in bars, but will be shown as cancelled here.
We all hope that this ends soon, and appreciate the hares who may have had big plans for the next few weeks.
EH3 Run #1636 – 
Saturday, December 4
Hares: Wrist Action, Mr. Lube
Location: Monolith Landing Pad (aka fountain) at 184 St & Wedgewood Blvd (https://goo.gl/maps/HFbV84wcv2JczNTV9)
Note: there will be a hash hold (sponsored by Passion Pit)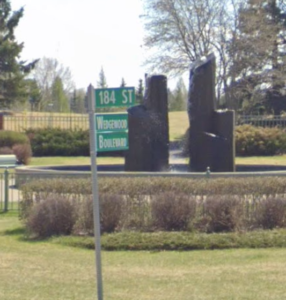 EH3 Run #1637 – The Return to WHITE MUD Run
Saturday, December 11
Hare: Shit Picker, Just Angie, Pit Stop
Location: the clearing at 39A Avenue & Aspen Drive beside 3920 Aspen Drive West (https://goo.gl/maps/FFgNNo3zR7AdSEJL7)
Notes: Run will be set by 1 PM. Hash hold at start/finish about 3 PM. We'd make a warm drink for everyone if COVID permitted… So recommend you bring your own
EH3 Run #1638 – Jingle Bell Christmas Run
Saturday, December 18
Hares: Hidden Assets, Rear Endee
Note: appropriate Christmas wear is encouraged
EH3 Run – Christmas Run
Saturday, December 25
Hare: only if somebody wants to step up and set the run
EH3 Run #1639 – New Year's Run
Saturday, January 1
Hares: Free Woody, Gobble Me
EH3 Run #1640 – 
Saturday, January 8
Hares: French Tickler, Smurf-o-phile, BlowHoleE
EH3 Run #1641 – 
Saturday, January 15
Hares: need hare
EH3 Run #1642 – The Revenge of the Dicks, in their two-twos
Saturday, January 22
Hares: the Dicks
EH3 Run #1643 – Robbie Burns
Saturday, January 29

Saturday, March 12, 2022 – St. Patrick's Day Run. Hares: Fancy Licker & Happy Beaver