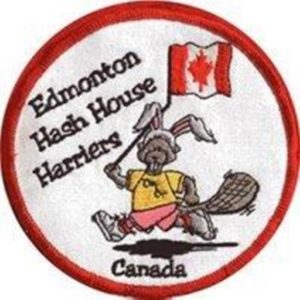 The Hash has NO RULES (but there are some traditions):
You must be 18 years or older to attend an EH3 run or event.
Sorry, because they can get underfoot, no dogs on the runs.
Run fees are $5. Fee is waived for virgins, (i.e. those new to hashing). This entitles you to one beverage, beer/cooler/soft swill, at the run. Extra beverages cost $2.
If you pre-pay for 30 runs, you get 3 runs free.
Hares run for free on their run. Scribes get a coupon for a free run from the Trash Editor when they submit a run report.
The ON-ON beer fee is $8.
To hare a run, please contact Nookey or French Tickler at a run or by email to either swgilroy (at) shaw (dot) ca or PGay (at) mcgeerichard (dot) com with the subject line beginning with Run Info. Updates may also be sent to al.klassen@outlook.com. If you would like to, or need to, sponsor a hash hold please contact the hares.
Park Rangers now seem to be ok with white (non-coloured) flour or sidewalk chalk.
Unless otherwise posted, runs from April through September are held Mondays at 6:30 pm and runs from October through March are held Saturdays at 2 pm
As of September 16, Alberta Health has introduced temporary measures. Proof of vaccination will be required at pubs and bars. Outdoor activities are allowed for up to 200, but 2 metre distancing is required. Mismanagement is reviewing the situation.

EH3 Run #1625
Monday, September 20, at 6:30 pm
Hares: Copsucker, More Dick Please
Scribe: Dr. Diddle
Location: Park along the road just before the house at 2605 Maple Way NW. (https://goo.gl/maps/fs1viSxetK5fnYbR7)
IF you can't use your gosh darn GPS to find it, here are the old-fashioned directions … You can't miss it!
From Whitemud Drive, turn South at 17th Street. Go until you hit Maple Road and turn East.
(If you turned West you'd be on 38th Ave NW, but remember to go East!)
Cross the railroad tracks and proceed along Maple Road.
Pass the first intersection with Maple Way and go until you reach Maple Way the SECOND time.
Turn left (North) and you'll see an open, grassy field surrounded by a white picket fence.
Park along the road.  
On-On: CANCELLED due to current covid restrictions … blame Kenney!
Notes: BYOB and a chair if you want to hang somewhere… 
EH3 Run #1626 – Dick Tracy Memorial Run
Monday, September 27, at 6:30 pm
Hare: Big Rubber
Scribe: TBA
Location: Norwood Legion parking lot, 11150 82 St NW
On-On: TBA
Notes: 
EH3 Run #1627 – First Saturday Run
Saturday, October 2 at 2 pm
Hare: need hare
Scribe: TBA
Location: TBA
On-On: TBA
Notes: 
EH3 Run #1628
Saturday, October 9 at 2:00 pm
Hares: Begging For It, Fishy Finger, Just Marilyn
Scribe: TBA
Location: Florian Park, 902 Regency Drive, Sherwood Park, https://goo.gl/maps/J2f7yQw2pM5QF31N7
On-On: Oscars Pub, 221 Chippewa Rd, Sherwood Park, https://goo.gl/maps/3rtfNC5kThwdnVy8A
EH3 Run #1629 – Hoser Run
Saturday, October 16 at 2:00 pm
Hares: Scratch n Sniff, Nasty Ditch
EH3 Run #1630
Saturday, October 23
Hares: Big Bang, Shiny Pooper, Happy Beaver
EH3 Run #1631 – Day of the Dead Run
Saturday, October 30
Hare: Dr. Diddle
EH3 Run #1632 – Scorpio Birthday Run
Saturday, November 6
Hares: Sir Nookey, Rubber Made, No Reservations, Problem Child, Lap Quest, Dr. Diddle, etc.
EH3 Run #1633
Saturday, November 13
Hare: TBA
EH3 Run #1634 – Brazilian's Memorial Run
Saturday, November 20
Hares: French Tickler & Smurf-o-file
EH3 Run #1635 – St. Andrew's Day Run
Saturday, November 27
Hare: Mad Cow
Saturday, March 19, 2022, St. Patrick's Day Run. Hares: Fancy Licker & Happy Beaver