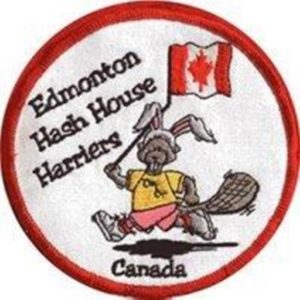 The Hash has NO RULES (but there are some traditions):
You must be 18 years or older to attend an EH3 run or event.
Sorry, because they can get underfoot, no dogs on the runs.
Run fees are $5 (once we get back to normal). Fee is waived for virgins, i.e. those new to hashing). This entitles you to one beverage, beer/cooler/soft swill, at the run. Extra beverages cost $2.
If you pre-pay for 30 runs, you get 3 runs free.
Hares run for free on their run. Scribes get a coupon for a free run from the Trash Editor when they submit a run report.
The ON-ON beer fee is $8, again once things get back to normal.
To hare a run, please contact Nookey or Mr.PeeeeeNut at a run or by email to mrpeeeeenut (at) gmail (dot) com with the subject line beginning with Run Info. Updates may also be sent to al.klassen@outlook.com. If you would like to, or need to, sponsor a hash hold please contact the hares.
Unless otherwise posted, runs from April through September are held Mondays at 6:30 pm and runs from October through March are held Saturdays at 2 pm
*** Due to COVID-19 pandemic and recommendations from Alberta Health, the Edmonton HHH will be having simplified runs/walks, only if a hare or hares is willing to set them. Physical distancing is required, and there will be no circle before and no swill, down-downs, or announcements after. If there is no hare, a weekly Zoom event will be held instead. For further information about the virtual runs or someone to whine to, please contact mrpeeeeenut (at) gmail (dot) com ***
RUNS HAVE SWITCHED TO SATURDAYS
FROM NOV 24, PUBLIC HEALTH ORDER LIMITS MIX n MINGLE SOCIAL GROUPS TO 10, WITH SOCIAL DISTANCING, EVEN OUTDOORS! WE'LL GO BACK TO HARES SETTING A RUN AT THE START OF THE WEEKEND AND HASHERS RUNNING AT THEIR OWN TIME OVER THE WEEKEND…NO CIRCLES, HASH HOLDS AND BREATHING MOISTLY!
Saturday, November 28 Virtual Hash Run #37 — The Black Friday / Full Moon Weekend!
Hares: Rumple Foreskin
Location: The East end of Fort Edmonton Parking Lot. (i.e. closest to the freeway / farthest from the Fort Edmonton gates). Look for trail going North towards the river. You may want cleats … !
Notes: This is a run-at-your-own-time run. No Circle. The run will be set by Noon Saturday USING CHALK … look for it on the sidewalk and other surfaces! No hash holds so BYOB
Saturday, December 5 — Dutch Sinterklaas
Hares: Rumple Dick Skin, Boobs Galore, and Big Bang
Location: TBD
Notes: subject to emergency guidelines from the provincial government and decisions from Mismanagement about trail markings