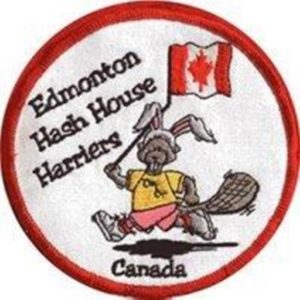 The Hash has NO RULES (but there are some traditions):
You must be 18 years or older to attend an EH3 run or event.
Sorry, because they can get underfoot, no dogs on the runs.
Run fees are $5. Fee is waived for virgins, (i.e. those new to hashing). This entitles you to one beverage, beer/cooler/soft swill, at the run. Extra beverages cost $2.
If you pre-pay for 30 runs, you get 3 runs free. You can pay by cheque at a run, or send $150 by e-transfer to Gobble Me at edmontonhhh (at) gmail (dot) com (preferred choice). It'll be an automatic deposit with no security question. Just let Hash Cash know you've paid this way.
Hares run for free on their run. Scribes get a coupon for a free run emailed from the esteemed Trash Editor once they submit a run report.
The ON-ON beer fee is $8.
To hare a run, please contact French Tickler or BlowHoleE or Horse's Arse at a run or by email to either PGay (at) mcgeerichard (dot) com or stefancik (at) hotmail (dot) com with the subject line beginning with Run Info. Updates may also be sent to al (dot) klassen (at) outlook (dot) com. If you would like to, or need to, sponsor a hash hold please contact the hares.
Unless otherwise posted, runs from April through September are held Mondays at 6:30 pm and runs from October through March are held Saturdays at 2:00 pm.
With some hashers having recently caught COVID-19, possibly at hash events, we recommend the following precautions:
Please don't attend if you haven't had at least two vaccinations.
Please don't attend if you have cold- or flu-like symptoms.
Masks recommended when signing in with hash-cash.
No rummaging or rooting through the beer and snacks; you touch it, you take it.
EH3 Run #1667 –
Saturday, December 3
Hares: Nasty Habit, Massage – A – Twat
Location: St Albert Grain elevators Park, 4 Meadowview Dr (just off Mission Ave), St Albert
On-On: Crown & Tower Pub, 11 Bellerose Drive, Inglewood Town Centre, St Albert
EH3 Run #1668 –
Saturday, December 10
Hares: Free Woody, Gobble Me
Location: end of 184 St and Wedgewood Crescent intersection (https://goo.gl/maps/VGjeXc6anPXunFe36)
On-On: Franco's, 6627 – 177 St
EH3 Run #1669 –
Saturday, December 17
Hares: Bag Snatcher, Fancy Licker
EH3 Run #1670 –
Saturday, December 24
Hares: Rumple Dick Skin, Rear Endee
EH3 Run #1671 –
Saturday, December 31
Hares: Tie Me Up
EH3 Run #1672 –
Saturday, January 7
Hares: Smurf-o-Phile, French Tickler, Blow HoleE
EH3 Run #1673 –
Saturday, January 14
Hares: Doggy Style, My Favourite Sister
EH3 Run #1677 – The Love Run
Saturday, February 11
Hares: High Roller, Tail Gate
EH3 Run #1684 – Onesie Run
Saturday, April 1
Hares: My Favourite Sister, Crazy Undercover, French Tickler
EH3 Run #1694 – D-Day Run
Monday, June 5