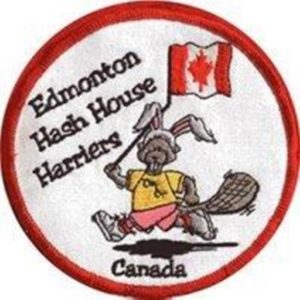 The Hash has NO RULES (but there are some traditions):
You must be 18 years or older to attend an EH3 run or event.
Sorry, because they can get underfoot, no dogs on the runs.
Run fees are $5 (waived for virgins, i.e. those new to hashing). This entitles you to one beverage, beer/cooler/soft swill, at the run. Extra beverages cost $2.
If you pre-pay for 30 runs, you get 3 runs free.
Hares run for free on their run. Scribes get a coupon for a free run from the Trash Editor when they submit a run report.
The ON-ON beer fee is $8.
To hare a run, please contact Sound of Mucus at a run or by email to craigluk (at) shaw (dot) ca with the subject line beginning with Run Info. Updates may also be sent to al.klassen@outlook.com. If you would like to, or need to, sponsor a hash hold please contact the hares.
Unless otherwise posted, Monday runs start at 6:30 pm and Saturday runs start at 2:00 pm.
Saturday, July 20, 2019 – AGPU
Location: Keephills Community Hall, about one hour west of Edmonton (head west on Highway 627 to Range Road 32A and turn south)
https://goo.gl/maps/4Lv1KxxbVrSqbLdH9
Registration and Cocktails: 1:00 pm
Circle Up: 2:00 pm
Dinner: 6:00 pm
Leave by: Sunday noon (after you clean up the mess)
Things to Bring: Lawn Chair, Bug Spray
Camping: no hookups, lots of room for motorhomes, trailers & tents
Run #1579 July 22 (tu-tu), 2019
Hare Needed
Run #1580 July 29, 2019
Location: Gold Bar Park, End of 50 St, turn right
Hares: Edifice Complex and My Skoroum
Run #1581 August 5, 2019
Hare: Tie Me Up
Run #1582 August 12, 2019
Hare: Squeeze Box and Piss'n Boots along with Horses Arse
Location: TBA
On On: TBA
Run #1583 August 19, 2019
Hare Needed
Run #1584 August 26, 2019
Hare Needed
Run #1585 September 2, 2019
Hare Needed
Run #1586 September 9, 2019
Hare Needed
Run #1587 September 16, 2019
Hare Needed
Run #1588 September 23, 2019
Hare Needed
Last Monday Hash
Run #1589 September 30, 2019
Hare Needed
Hash new time: 2:00 Saturday
Saturday at 2pm
Run #1590 – Hash till you drop baby!
October 5, 2019
Hare: VST